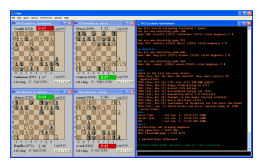 Thief is a free chess client written by Zon Jan to play on chess servers like the Free Internet Chess Server (FICS). Thief can be customized and supports regular chess and all variants like bughouse, crazyhouse, Losers, Suicide, Kriegspiel and others. It is the the preferred client of Bughouse Players. Bughouse is a special team-chess game (for more information on Bughouse see http://www.bughouse.net).

Thief works in Windows 95/98/NT/2000/XP/Vista/7 and also in WINE.

The latest release is Thief 1.25 from May 10, 2011.